Billionaire China, Cecil Chao menawarkan sebanyak USD60 juta kepada mana-mana lelaki yang berjaya memikat dan berkahwin dengan anak gadisnya. Walaubagaimanapun,CuteCarry rasa susah juga sebab Gigi Chao sudahpun berkahwin dengan pasangan lesbian yang telah bersama selama 7 tahun.
"I don't mind whether he is rich or poor. The important thing is that he is generous and kind-hearted," Cecil was quoted as saying by the Hong Kong daily.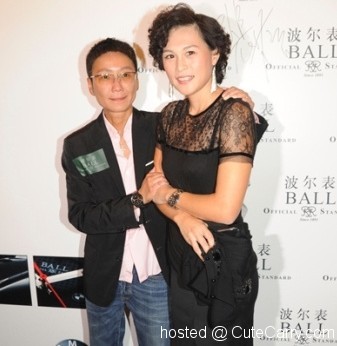 Gigi last week revealed she married long-time partner Sean Eav in France earlier this year. Same-sex marriages are not legally recognized in Hong Kong.
Nampaknya memang susah kepada lelaki yang berminat hendak berkahwin dengan Gigi kerana well…dia memang tidak minat lelaki dan hanya cakap ayahnya 'funny' ( Dia dilaporkan memang rapat pun dengan ayah dia) dan meminta supaya ayahnya menarik balik kontrak tersebut. Gigi dah menerima beratus lamaran perkahwinan.
For your family's sanity's sake, daddy, please rescind the notice!" Gigi Chao, 22, wrote on her Facebook page  adding that she would no longer accept Facebook friend requests.
she says she has received marriage offers from Nigeria, Bulgaria and Turkey.
"Where do all these people come from? (Jerusalem)? Ethiopia? Istanbul? ridiculous," she wrote in an earlier post.
Gigi.. they don't want you..they want the money!!
CuteCarry mengenali beberapa pasangan lesbian dan bolehlah dikatakan bahawa pasangan lesbian memang kalau bercinta memang hebat. Bukan setakat bercinta setahun dua tetapi ada yang dah bersama berbelas tahun.Ada yang berkongsi nama membeli rumah dan ada yang memang till death do us part.
Fun Fact: Cecil Chao is well known as a "playboy" in Hong Kong's social circles and regularly appears at public events with his latest young girlfriend.He reportedly once claimed to have had intimate relations with 10,000 women.