Katie Price, who is also known as Jordan Price is a British glamour model and also an equestrian rider.She is big in Britain (not a familiar name in Malaysia yet!)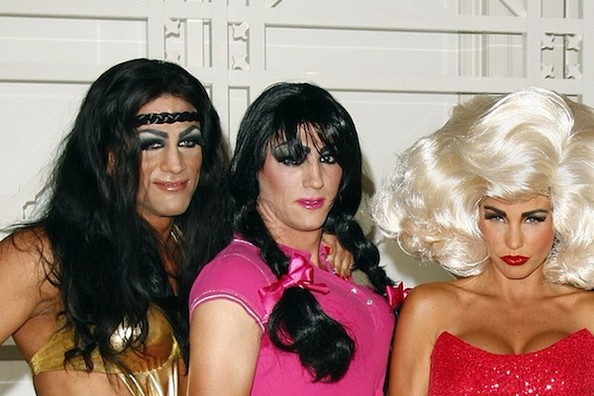 Her boytoy cage fighter Alex Reid, who recently revealed he enjoys cross-dressing, decided to embrace his fetish publicly. Alex was joined by Katie's horse trainer Andy Gould, her brother Daniel Price and stylist Phil Turner, who were all wearing replicas of outfits Katie has worn in the past. To stand out from the boys, the glamor model, also known as Jordan, wore a large blonde wig and a tight red gown complete with feathers, ribbons, sequins and a long train.
This is part of her book Standing Out: My Look, My Style, My Life launch in London.
In the book, Katie reveals the details of her extensive clothing collection and gives her own tips for women, or men who like dressing as women, who want to look like her. One pearl of wisdom reads: "You don't need to spend a lot of money to look cheap but remember, even though you might be dressed like a cheap tart, it doesn't mean you have to act like one."
Erm.. I guess I am goin to see what's it all about. If