BIRU dan HIJAU @ AIM 17 2010.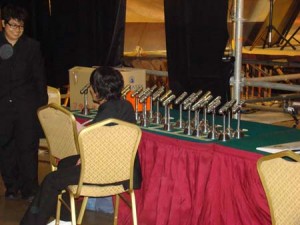 Di belakang pentas AIM 17, ini adalah trofi-trofi sebelum diserahkan kepada pemenang. CuteCarry berada dibelakang pentas di mana artis-artis berkumpul sebelum berjalan diatas RED CARPET AIM.
Semasa menunggu giliran berjalan, sempat juga snap snap sikit gambar
Turquoise kalau tak salah adalah diantara kumpulan warna biru dan hijau kan? So, I put petite MILA ini this category.
Mila memakai dress turquoise daripada Khairi Sufi. I love the colour.!Baju ini memang sesuai dengan badan Mila yang amat comel dan petite. BTW Khairi, you look slim..
Rasa macam KLCC je!
Click click to read more. Tolong click ye……
GREEN CARVEN ONG!!!
Jaclyn Victor memakai dress Carven Ong. Dress berwarna hijau yang simple, quiet effortless details and sexy! She can carry the dress.. but……..
Her hair. Nice dress and you're beautiful.. tapi rambut pada malam ni sedikit tidak kena dengan panampilan keseluruhan Jac .mmmmmmmmmm…..
Soo Wincci with designer Carven Ong
One of the best dresses of AIM 17. Miss Malaysia World 2008, Soo Wincci. She is wearing Carven Ong floral dress. Very stunning, very luxurious and simply beautiful!
Kalau Soo Wincci pakai baju ni waktu final Miss World 2008 kat South Africa dulu, mesti dapat markah banyak kan?
Next entry.. Men in Suit!