This is the first cut. Top 5 for each category Finalis ABP 2009 yang diumumkan di Palace of Golden Horses. I was there and it is straight from the powerpoint presentation!
Cutecarry juga telah memilih siapa patut memang tetapi saya ni memang bias… please read my justification for each category!
CuteCarry Choice: Aznil Nawawi, because I love his jacket and his colourful outfit. Ac Mizal comes second because his dressing pun boleh tahan…
CuteCarry choice: Sheryl Samad. Suka dengan gayanya yang sangat elegant effortless!
CuteCarry Choice: Aznil, you know why, tolong refer kat atas!
CuteCarry Choice: Nana. Love her haircut. Wait for my next entry!
CuteCarry Choice: AC Mizal. Best dress among this group.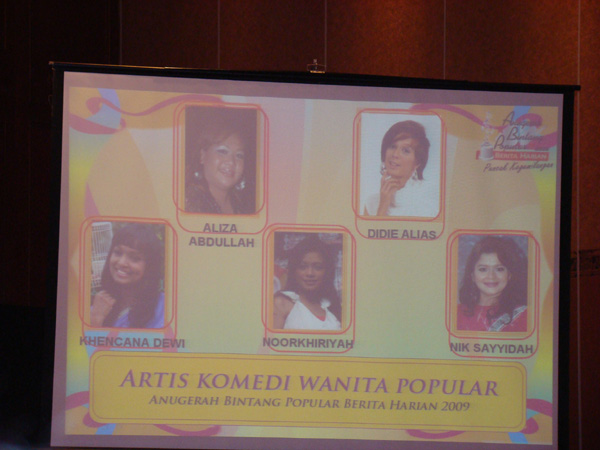 CuteCarry Choice: ini bukan berdasarkan pakaian, tetapi saya memang minat dengan lakonan Khencana Dewi!
CuteCarry Choice: Aril. Sorry but not really like his song, tapi suka juga dengan gaya-gaya ala2 Korea and Japan look!
Cutecarry Choice: Yuna. Dressing dia bertambah baik dari hari ke sehari. Dia pun makin cantek. Dira Abu Zahar juga boleh tahan juga….
CuteCarry Choice: Raihan. Mana ada kumpulan muzik boleh popularkan fesyen baju untuk semua peringkat umur