To pronounce Pu-te-ri!
A very sexy PU3 indeed!
Black with a dash of bold colour are the main elements for PU3 collection.
Oversized bright clutch. Yummy!
Easy and effortless
Gold shoulder bag… I should try carry this.
Sexy off shoulder top with statement accesories
Supermodel Dilla in tiered skirt and black top and oh.., I love gold bold statement accesories.
Short one shoulder shiny dress
The red affair
Again, blame me. I shud learn how to take good photo!
The oversized clutch.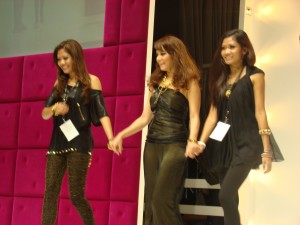 The PU3 Putri Azalea Ashram Ramli and Putri Yasmin Ashram Ramli (yes.. there are former Menteri Besar Perak,Tan Sri Ramli Ngah Talib twin)