Very, very refreshing to witness a new breed of designers. Some of them are ready to serve the hungry fashionistas (and need to work hard) and some really need to work hard, freakin-freaking hard!
But.. overall…classy, classy show and venue at Dewan Mayang Sari, JW Marriot KL.
I'm from office….my emergency jacket!!
With my date for the nite, Shida.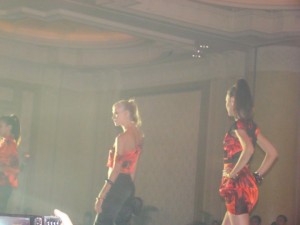 Love the jacket!..
80's jacket with towering heels. Only for the runway and those who dare!!!…
Raffles International College click here
hmmmmmm… this is to show new breed of Asian